Your single donation
can make many faces happy :)
Hassan Academy Special Education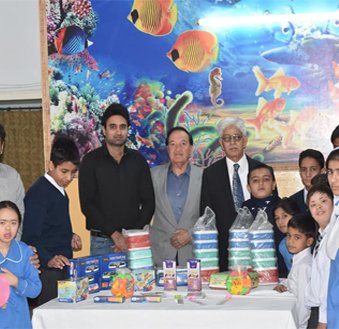 Striving to Excellence
---
If you talk to a man in a language he understands, that goes to his head. If you talk to him in his own language, that goes to his heart.
Every child has the right to education. It is consistent that all children be given equal opportunities to learn. lf properly guided and educated, these special children can be transformed into useful citizens and they can play an active role without being burden on their parents and society.
HASE offers students the unique opportunity to form a specific identity that focuses on strengths and unique talents instead of disabilities. We provide an education that is tailored to meet the individual needs that address the total child in | an ideal culture of norms, acceptance and belonging.
Why we do this?
To live for others is the most best and liked work near to Al Mighty Allah. We do this to make the life of unattended and needy children successful so that they can fulfill their dream and aim of life and can lead a happy life.
HASE provides educational settings which promotes healthy social relationship between special and normal children, at all levels and reduces the physical distance between them through equal participation in social activities.
HASE has an excellent arrangement where special children are considered as important as normal children and provides natural environment to accept and to be accepted, to adjust emotionally, to acquire a sense of competency and independence and above all for rehabilitation.
Special and normal children are being taught simultaneously in the same premises. Some of them are partially integrated whereas others are fully integrated depending on the degree of their hearing loss and type of disability. This experience and technique has inculcated a positive psychological effect upon the special Children.
Speech Therapy

Computer Training

Vocational Training

Ramzan Ration Pack

Co-Curricular Activities

Hostel Facilities